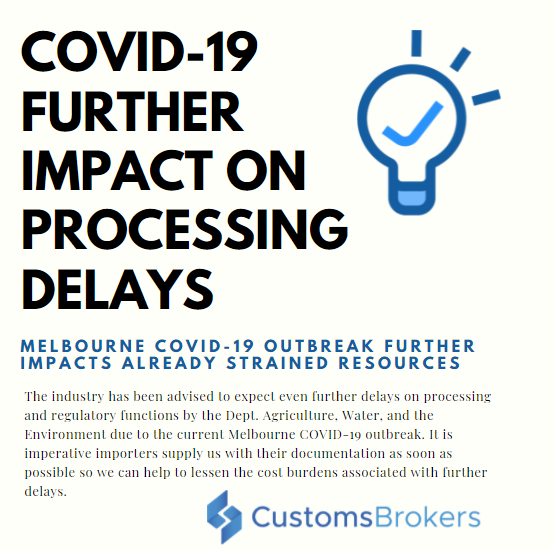 Importers will be well aware that we are currently experiencing lengthy delays in functions carried out by the Department of Agriculture, Water and the Environment (DAWE).
Industry has been advised through Freight & Trade Alliance (FTA) that we are to expect the delays to increase further with the current COVID-19 outbreak in Melbourne, Victoria. This is where a high number of DAWE staff reside and this will affect their ability to tend to work functions.
We urge all our clients to help get us documents as soon as possible and we will always advocate on your behalf with DAWE to get your shipments processed as soon as possible. They are quite significantly outside their charter, with document processing and inspection bookings. It is imperative we work alongside DAWE and get the best outcome for our clients. We are currently sitting at over 10 days for document processing, and 7 days for inspection bookings (in our experience).
There is a cost to importers, brokers, transport companies, and other industry participants in these delays. We understand this cost burden as we too are absorbing these additional costs of doing business at the moment.
Please do not hesitate to contact us if you have any questions or queries. Please be rest assured we are on the phone with DAWE daily asking for assistance. We will do our utmost to help all our clients.