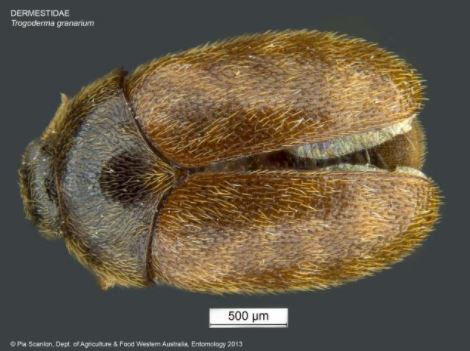 The urgent actions will be applied to the following plant products (in various raw and physically processed forms for any end use), which have been identified as high-risk:
Rice (Oryza sativa)
Chickpeas (Cicer arietinum)
Cucurbit seed (Cucurbita spp; Cucumis spp. and Citrullus spp.)
Cumin seed (Cuminum cyminum)
Safflower seed (Carthamus tinctorius)
Bean seed (Phaseolus spp.)
Soybean (Glycine max)
Mung beans, cowpeas (Vigna spp.)
Lentils (Lens culinaris)
Wheat (Triticum aestivum)
Coriander seed (Coriandrum sativum)
Celery seed (Apium graveolens)
Peanuts (Arachis hypogaea)
Dried chillies/capsicum (Capsicum spp.)
Faba bean (Vicia faba)
Pigeon Pea (Cajanus cajan)
Pea seed (Pisum sativum)
Fennel seed (Foeniculum spp.)
The urgent actions are considered necessary because:
The global spread of khapra beetle is increasing and it is being detected on a wide range of plant products and as a hitchhiker pest on containers, from places where khapra is not known to occur.
Khapra beetle is a significant threat to Australian plant industries, including the grain export industry. Khapra beetle destroys grain quality making it unfit for human or animal consumption. Stored products also become contaminated with beetles, cast skins and hairs from larvae, which can be a human health risk.
If khapra beetle enters Australia it would have significant economic consequences. An outbreak could cost Australia $15.5 billion over 20 years through revenue losses arising from damaged grain in storage and exports.
Australia currently has biosecurity requirements for many products that could be infested with khapra beetle. However, the department believes that the biosecurity requirements need to be expanded and strengthened to prevent a khapra beetle incursion.